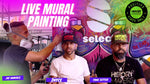 Welcome to this incredible episode of History Makers Unite, where we embark on an extraordinary journey of creativity, art, and celebration. Join us as we take on the momentous task of painting two 8 feet walls for the 10-year anniversary of 710 Dab Day in Miami, FL.
Fashion, Art, Motivation, and Entertainment are the cornerstones of our brand, and in this episode, you'll witness these elements come together like never before. History Makers Unite alongside Jays Ramirez, Tonesetter, and 2nyce for this amazing event, as we channel our passion and talent into creating something truly remarkable.
Despite Miami's scorching weather, the heat couldn't deter us from making magic happen. Fashion for Greatness takes center stage, showcasing the newest collection pieces set to drop soon, alongside exclusive art pieces that captivated our audience.
The feedback we received was beyond incredible, and we cherished every moment of connecting with all of you, our amazing supporters. Your energy and enthusiasm fuel our drive to keep pushing boundaries and creating unforgettable experiences.
Prepare to be inspired, motivated, and entertained as we unveil the beauty of unity, artistry, and the spirit of History Makers. Watch now to be part of this monumental celebration and witness the power of creativity in action.
Directed By: https://www.instagram.com/directorjayvega
Produced By: https://www.instagram.com/historymakers02
Artist: https://www.instagram.com/jaysramirez/
Artist: https://www.instagram.com/tonesetter/
Artist: https://www.instagram.com/2nycelive/
Artist: https://www.instagram.com/hotride305/
Artist: https://www.instagram.com/select.better/
Artist: https://www.instagram.com/710dabday/
"We were never created to live an average life. We were created to be History Makers." - William Yakwii
Visit Our Website
- www.HistoryMakers02.com
- www.Executive-Digital.com