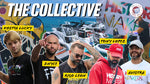 Get ready for an epic journey in Episode 4 of the Dream Makers Collective! 🌟 Join us as we embark on an adventure, forging memories on the high seas with Gulf Luxury Yacht Charters. ⛵ We'll take you behind the scenes at Fresh Press USA, where the magic comes to life. 🎨
This collaboration is extra special to us, as it's a celebration of a decade-long partnership with Jorge and Rosie, who've been history makers for over 10 years. It's all in the details, and we're thrilled to present Gulf Luxury Yacht Charter with the essence of Fashion for Greatness.
Next, we'll dive into the world of art with @rigoleonart and @Tonesetter at Only In Dade Studios. You'll not only witness the creative process but also enjoy an exclusive, in-depth conversation between these two incredible artists. 🎙️ Rigo Leon shares his journey, artistic influences, and evolution as an artist. Finally, we bring you more greatness with Avistra and Kostia, broadcasting live from The Confidante Hotel.
✨🎶 This collaboration is a true fusion of creativity and vibes, an experience you have to witness in person.

Episode 4 of the Dream Makers Collective is all about showcasing our unique talents, united by a common purpose and positive vibes. Because, ultimately, we're all history makers. 💪 We hope you relished this episode, and there's more excitement on the horizon!
Stay tuned for what's to come. Subscribe and be part of our vibrant community. 🌠
Directed By: https://www.instagram.com/tonesetter
Produced By: https://www.instagram.com/historymakers02
Artist: https://www.instagram.com/kostia_violin/
Artist: https://www.instagram.com/rigoleonart/
Artist: https://www.instagram.com/2nycelive/
Artist: https://www.instagram.com/avistra/
Artist: https://www.instagram.com/gulf_luxury_charters/
Artist: https://www.instagram.com/tonesetter/
"We were never created to live an average life. We were created to be History Makers." - 2nyce
Visit Our Website
- www.HistoryMakers02.com
- www.Executive-Digital.com