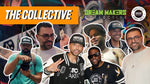 Prepare for an action-packed Episode 2 with the Collective! We're thrilled to bring you an exhilarating whirlwind of events and experiences that are bound to leave you captivated.
From behind-the-scenes event planning for our first event at the @dreammakerscollective in partnership with the talented Rigo Leon & @theconfidante hotel, to a series of brand events hosted at @lightfxstudios featuring exceptional artists like @casperelmagico, @2nycelive, @dominosaints, and @jaysramirez. But wait, there's more! Dive into exclusive footage of our encounters with @kevinhart4real & @grancoramino at @gulfliquors, where we surprised Kevin with a personalized 1 of 1 cookies & cream alumni jacket, meticulously crafted by Rigo Leon & 2nyce.
Then, we take you on a tour of the @leomessi pop-up at the @adidas store in Miami Beach, with Rigo's interior design expertise on full display. Not to be missed, you'll get an exclusive behind-the-scenes glimpse of the Collective's DJ @avistra, @disem305, @didirok, @jaysramirez, and many more as we prepare for our first event at the DMC.
This episode is a powerhouse of energy and creativity, and we're inviting you to be part of it. Subscribe now to join the excitement and become a cherished member of our vibrant community!
Directed By: https://www.instagram.com/hangoutcreations
Produced By: https://www.instagram.com/historymakers02
Executive Produced By: https://www.instagram.com/executivedigital
Artist: https://www.instagram.com/jaysramirez/
Artist: https://www.instagram.com/rigoleonart/
Artist: https://www.instagram.com/2nycelive/
Artist: https://www.instagram.com/disem305/
Artist: https://www.instagram.com/didirok/
Artist: https://www.instagram.com/avistra/
Artist: https://www.instagram.com/tonesetter
Follow: https://www.instagram.com/dreammakerscollective/
"We were never created to live an average life. We were created to be History Makers." - 2nyce
Visit Our Website
- www.HistoryMakers02.com
- www.Executive-Digital.com