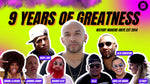 Welcome to a momentous episode of History Makers Unite, a celebration of our 9-year journey towards greatness. Join us as we take you back to our roots, commemorating the inception of the movement in 2014. In this episode, you'll meet the trailblazers who were the very first to embrace and join the History Makers Unite movement. We are overflowing with gratitude and appreciation for your unwavering belief in this dream.
A heartfelt thank you goes out to our parents, family members, friends, and the remarkable individuals who played pivotal roles in our early days. From Joey2Fresh, Fresh Press USA, Montoya El Duro, Silva Filmz, Alex Riv, Sito Rocks, to Breezy2Fly, Sergio, Good Life Miami, Lex Fine, and the entire El Zol 106.7 staff and personnel. The list extends to include Amara La Negra, Dashius Clay, Carcan Studios, Smiley Miami, Jammin Johnny, Nicky Jam, DJ Crissonfire, Karloff, DJ Hotride, DJ Danny Boy, La Rosy, El Bori Barber, Platano, Mike, Yessenia, Zilla, Cheenga, Fulanito Dose, Jonathan (my nephew), and countless others who joined us in those early moments. In celebration of this milestone, we've curated a new collection as a testament to our 9 years of greatness.
The Fashion for Greatness showcased in our History Makers Unite episodes during our pop-up tours pays tribute to our incredible journey. And don't miss our special 99 Signature Tees for $9 sale, an opportunity to grab a piece of History Makers Unite at an unbeatable price. We extend our heartfelt gratitude to all who have joined the movement, and we eagerly anticipate continuing this remarkable journey together.
Join us in reliving the moments that shaped our movement and celebrate the unity, creativity, and positivity that define History Makers Unite.
Directed By: https://www.instagram.com/historymakers02
Produced By: https://www.instagram.com/historymakers02
"We were never created to live an average life. We were created to be History Makers." - William Yakwii
Visit Our Website
- www.HistoryMakers02.com
- www.Executive-Digital.com