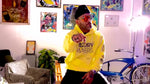 We are absolutely thrilled to announce the much-anticipated premiere of "DE OTRO TIEMPO," a music video brought to you by none other than our very own Jay Vega. Jay Vega's journey with History Makers 02 spans over a decade, during which he has consistently represented our movement with unwavering dedication. He is more than an artist; he is a true history maker and an extraordinary creative force.
The "DE OTRO TIEMPO" music video is a testament to Jay Vega's immense talent. As a musician, he possesses a unique voice and a distinctive style that set him apart as one of a kind in the music industry. These qualities reflect our brand's ethos of celebrating individuality, creativity, and uniqueness. Jay Vega is not just a history maker; he's a prime example of how passion, dedication, and a commitment to one's craft can lead to greatness.
The video was beautifully captured by our very own 2nyce, within the creative haven of "Yakwii's Closet." Jay Vega took the helm as director, leading the creative direction of the project. What followed was truly breathtaking. The video encapsulates the magic that's been meticulously crafted over an entire year as we transformed "Yakwii's Closet" into a work of art, one brick at a time.
A striking centerpiece of the video is our lowrider bike, "Energy," which gracefully hangs from the ceiling, adding a unique and captivating element to the visual narrative. The walls of "Yakwii's Closet" come alive with awe-inspiring art, featuring some of the most vibrant and captivating colors you'll ever see. The crowning jewel of the space is our History Makers mural, masterfully created by the talented artist Disem.
In "DE OTRO TIEMPO," we proudly showcase two of our most sought-after garments—the exclusive Leopard Signature Volt Premium Hoodie and the vintage Matrix White & Volt Signature Premium Sweater. These pieces are not just clothing; they are artworks in their own right, fusing modern style with timeless charm. The attention to detail in the video perfectly complements its title, "de otro Tiempo," meaning "from another time." It epitomizes fashion for greatness at its finest.
Jay Vega's unique style is further elevated by the carefully selected accessories he adorns. One standout piece is the exclusive Pit Viper accessory, which undoubtedly deserves a sponsorship. Let's speak that into existence! The harmonious blend of music, fashion, and art in this video creates a masterpiece that resonates with the core principles of History Makers 02.
This collaboration is a celebration of creativity, unity, and the power of collective artistry. It's a powerful reminder that we are stronger when we come together to create meaningful work. "DE OTRO TIEMPO" is not just a music video; it's an embodiment of our mission to inspire individuals to achieve their dreams and make a positive impact. It's a testament to the creative spirit that fuels our brand.
So, we invite you to sit back, relax, and immerse yourself in the captivating world of "DE OTRO TIEMPO." As you experience the magic, keep in mind that we were never created to live an average life; we were created to be history makers. We extend our heartfelt thanks to Jay Vega for this incredible collaboration, and we look forward to the impact this art will have on our community.
Welcome to "DE OTRO TIEMPO"—a fusion of music, fashion, art, and the unwavering spirit of history makers.