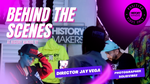 Welcome to this exciting episode of Fashion for Greatness, where we take you behind the scenes at History Makers, offering an exclusive inside look at how we create our stunning samples in-house while curating captivating content simultaneously.
Join us as we welcome some incredible friends—@solidvibez, @first.ladyk, and @directorjayvega—inside @yakwiiscloset for an unforgettable live photoshoot experience, showcasing our signature pieces. The synergy between Solid Vibez behind the lens, Jay Vega's expertise in lighting and set design, and Lady K slaying this Fashion For Greatness fit is pure magic.
Witness the fun and creativity as our great team collaborates, capturing breathtaking moments that truly embody the essence of History Makers. As an extra treat, we had a special visit from one of our youngest History Makers, Logan, who joined us in creating some extraordinary art. The moment he says "I like that" and stops painting is nothing short of magical.
They say you're not working a day in your life if you're doing what you love, and here at History Makers, we are living that truth every day. Join us on this inspiring journey as we celebrate passion, creativity, and the joy of doing what we love. Get ready to be amazed, inspired, and moved by the enchanting experience that unfolds in this episode of Fashion for Greatness.
Directed By:
https://www.instagram.com/directorjayvega
Produced By:
https://www.instagram.com/historymakers02
Artist:
https://www.instagram.com/solidvibez/
Artist:
https://www.instagram.com/first.ladyk/
Artist:
https://www.instagram.com/tonesetter/
Artist:
https://www.instagram.com/2nycelive/
"We were never created to live an average life. We were created to be History Makers." - William Yakwii
Visit Our Websites
- www.HistoryMakers02.com
- www.Executive-Digital.com