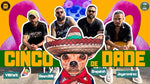 Join us for an explosive experience as we present "History Makers Unite: Pop Up & Live Painting Experience" on Cinco de Dade. Immerse yourself in the vibrant art installations by disem merging
#miami
and
#mexican
cultures.
@michellepfeifferofficial character in
#scarface
with Katrina makeup felt fitting. and drepstah with the most iconic
#chihuahua
on the planet witness the unmatched energy and reception we received.
Prepare to see Miami's top comedians and content creators unite with Jay Ramirez for an unforgettable live painting experience. We even took the stage with the legendary DJ Laz, delivering electrifying performances. Brace yourself for a thrilling ride filled with fun, creativity, and exclusive giveaways of History Makers merchandise. Don't miss out on the positive vibes and excitement. Tune in now!
Produced By:
https://www.instagram.com/historymakers02
Artist:
https://www.instagram.com/jaysramirez/
Artist:
https://www.instagram.com/disem305/
Artist:
https://www.instagram.com/2nycelive/
Artist:
https://www.instagram.com/drepstah/
Artist:
https://www.instagram.com/hotride305/
"We were never created to live an average life. We were created to be History Makers." - William Yakwii
Visit Our Website - www.HistoryMakers02.com - www.Executive-Digital.com