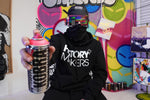 Describe your experience at Yakwii's Closet?
Yakwii & I have known each other for a long time since i was born actually, He has been like a big brother to me and i've watched him build his brand from the start. So being able to go to Yakwii's Closet and paint a very meaningful mural was amazing. The mural consist of The Original Yakwii Face Design in many different colors representing happiness & diversity. On the top i added Yakwii in graffiti with some abstract lines added by Yakwii himself. The No Face x William Yakwii collab is one of a kind, It truly has HIStory.
What inspires you to create art? Are there particular themes or subjects that you find yourself drawn to?
As a graffiti artist, I'm very drawn to the theme of old-school graffiti from the 80s and 90s mixed with modern abstract art. People's positive reactions to my art motivate me to keep going and I'm also inspired by my uncle Aka "BRAVO" who is also a graffiti artist and helped mentor me.
How do you typically approach a new project? Do you have a specific process or method that you follow?
To visualize how the piece would look on the client's wall I always measure the wall and take a picture. This allows me to photoshop the design and show the client how it would look. In all of my projects, I take my customers' ideas and incorporate my touch.
  How has your art evolved over time? Are there any significant changes or
developments that you've noticed in your style or approach?

With my art, I have evolved tremendously over the years. Since I was 10 years old, I have been drawing letters with a scribble look, but now I know how to bend them professionally. My letters have greatly improved in the last few years. I used to do street-style graffiti, which they call "bombing", but now I prefer murals that are better suited to businesses and viewers.