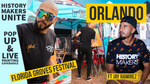 Join us as we take you on a journey to the Florida Groves Fest in Orlando, where we set up shop with our History Makers 02 pop-up and live painting experience. We were accompanied by a team of talented individuals, including director DonbiTV from Hangout Creations, Tony from Executive Digital, artist Jay Ramirez, photographer Solid Vibez, and our very own William Yakwii.
Over the course of two days, we had the opportunity to meet incredible people, have a ton of fun, and create some truly amazing art. Our documentary showcases the experience in all its glory, from the colorful artwork to the positive energy that was present throughout the event.
We're thrilled to share this journey with you and hope you enjoy watching it as much as we enjoyed living it. So sit back, relax, and join us on our road trip to the Florida Groves Fest. As always, positive vibes only!
PHOTOS SHOT BY: SOLID VIBEZ